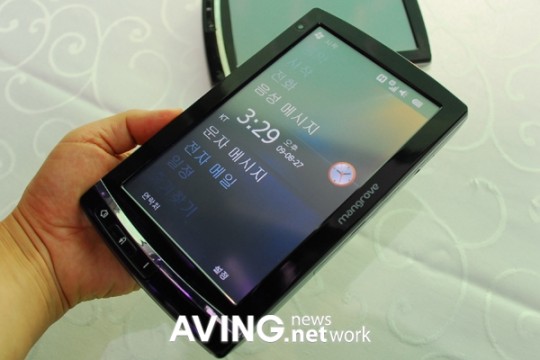 Here you are a dream come true, the goregous 7" (WVGA) Mangrove from C-Motech… Powered by the impressive 1GHZ Snapdragon CPU, and featuring all wireless wonders like WiFi, 3G and WiMAX, the Mangrove 7 is the ultimate Windows Mobile 6.5 Tablet or MID that we all ever dreamed off !

Not only C-Motech worked hard by offering an impressive design, but they also made sure that nothing was missing… Already impressed by the spec above? Well here you are some more for your, 3D Graphics with up to 22M Triangles/sec & 133M 3D pixels/s, High Performance multimode GPS and the choice of a 3200 or 4000mAh battery pack in just 190 x 120 x 19.5mm for 300g… What much too say? Well WHEN CAN I GET ONE !

Full specification :
Mobile Internet Device with 7" wide display
Full touch feature with WM 6.5
CPU : 1GHz (Snapdragon Platform)
Memory : Nand 512MB / 256MB SDRAM Full web browse
Support for Converged Services(Wi-fi)
Messaging & e-mail : Yahoo, AOL, Windows Live
Music Capable - AAC, AAC+, MP3, Real Audio, AAC+V2, AMR & WMA
Cellular Video Capable - H.263/H.264, MPEG-4, Real Audio & WMV
Removable Memory : Micro SD Bluetooth Capable.